UK Prime Minister Theresa May shakes hands with US President Donald Trump at the White HouseChristopher Furlong/Getty Images
The online petition urging Donald Trump be blocked from making a state visit to the UK has reached more than one million signatures. The petition called for the US President to be prevented from meeting the Queen as it would cause "embarrassment" for her.
It added: "Donald Trump's well documented misogyny and vulgarity disqualifies him from being received by Her Majesty the Queen or the Prince of Wales. Therefore, during the term of his presidency Donald Trump should not be invited to the United Kingdom for an official state visit."
Downing Street has issued a statement saying the prime minister does not agree with Trump's executive order. A spokesperson said: "Immigration policy in the United States is a matter for the government of the United States, just the same as immigration policy for this country should be set by our Government.
"But we do not agree with this kind of approach and it is not one we will be taking. We are studying this new executive order to see what it means and what the legal effects are, and in particular what the consequences are for UK nationals."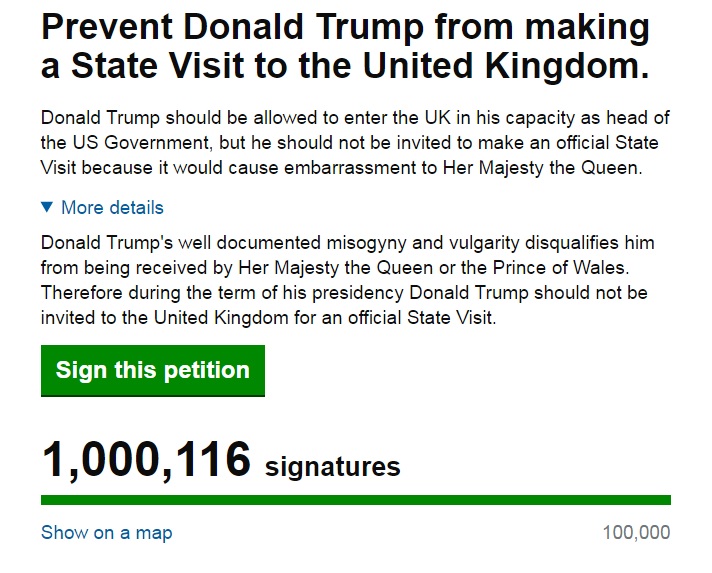 The petition hit one million signatures on the morning of further protests against Trump's executive order on refugees taking place across the UK.
Huge protest have already taken place in the US and across the world following Trump's extreme vetting" measures against migrants or visitors from Iran, Iraq, Libya, Somalia, Sudan, Syria and Yemen.
You can check how many of the one million votes came from your area via this map.