Maltese troops survey a hijacked Libyan Afriqiyah Airways Airbus A320 on the runway at Malta Airport, December 23, 2016. © Darrin Zamit-Lupi / Reuters
According to BBC, a
stand-off is under way at Malta International Airport where a Libyan jet carrying 118 people landed after being hijacked on a domestic route.
The Airbus A320 was flying inside Libya for Afriqiyah Airways when it was diverted.
At least one man claiming to have a hand grenade threatened to blow up the plane, according to local reports.
Maltese Prime Minister Joseph Muscat said that his country's security forces were standing by.
— CNN (@CNN) December 23, 2016
It is unclear what the demands are being made by the hijacker. Some media say there is more than one hijacker.
The mayor of Sebha in Libya, Colonel Hamed Al-Khayali, told the BBC there were 111 passengers on board the flight plus seven crew members.
Mr Muscat said on Twitter that the passengers list included 82 men, 28 women and one baby.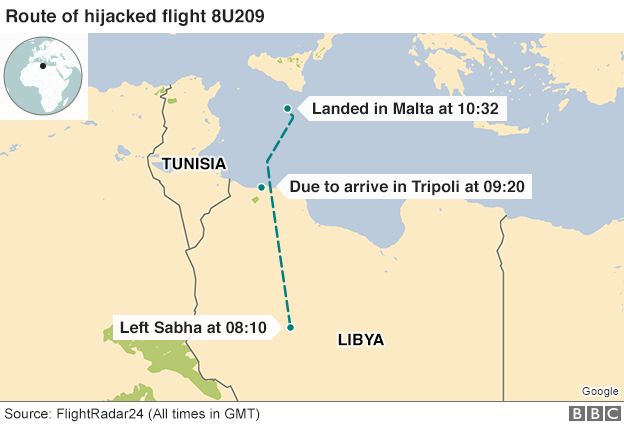 The deputy mayor for Lija in Malta, Madga Magri Naudi, told the BBC that paramedics and soldiers were standing by to see "what the next step is".
A special committee meeting was taking place to address the situation, she added.
In the meantime, Malta International Airport has been closed and all flights have been diverted.
The airport said emergency teams had been dispatched.
UPDATE: By
Prime Minister and Leader of the Labour Party - Malta.
First group of passengers, consisting of women and children, being released now.

— Joseph Muscat (@JosephMuscat_JM) December 23, 2016
First 25 passengers released.

— Joseph Muscat (@JosephMuscat_JM) December 23, 2016
Release of second group of 25 passengers underway.

— Joseph Muscat (@JosephMuscat_JM) December 23, 2016
65 passengers released so far.

— Joseph Muscat (@JosephMuscat_JM) December 23, 2016
Crew members being released.

— Joseph Muscat (@JosephMuscat_JM) December 23, 2016
Potentially 2 hijackers and some crew members still on board aircraft.

— Joseph Muscat (@JosephMuscat_JM) December 23, 2016