They came to celebrate the election of the first female president, gathering appropriately in a massive room with a clear glass ceiling. They left the Jacob Javits Center here in Donald Trump's hometown stunned and in tears.
Mothers tightly clutched their little girls' hands. Many ignored reporters as they scurried out, fists clenched, heads down, their hopes to make history dashed in the cruelest of ways. Clinton staffers walked around staring at their shoes as CNN played to an increasingly empty hall under that still-unbroken ceiling.
Almost everyone leaving held the small American flag they were handed out earlier in the evening, rolled up tightly in their hands.
It was supposed to be a victory party for Hillary Clinton on Tuesday night. Instead, as one supporter remarked casually to a friend, "It feels like a morgue."
VIDEO: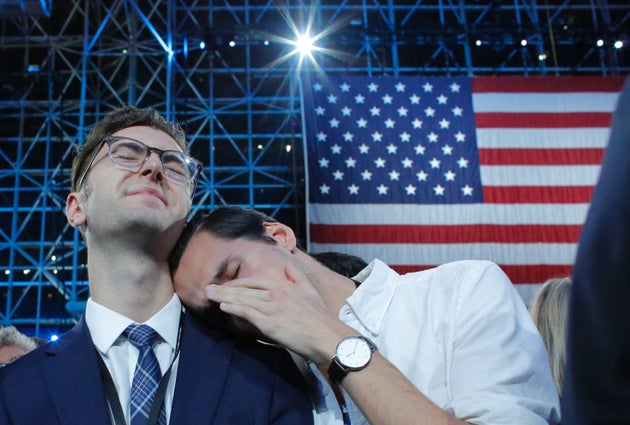 KENA BETANCUR VIA GETTY IMAGES
Outside the convention center, where just hours earlier an excited throng of supporters had gathered at an organized "block party," it was dead silent. Eerily so.
On the surrounding streets, most supporters had their headphones in, their heads down.
One man was still desperately trying to sell T-shirts that said "First Female President." No one was buying. "It's over!" someone yelled at the seller, walking by.
People crowded around windows, looking into bars from the sidewalk to see election results come in.
One woman walked by muttering "fuck" to herself.
A woman had come so close. By midnight, it looked increasingly like she was going to lose the race for the highest office in the land to a man who bragged of sexually assaulting women, who proposed a ban on an entire religion, who has never held political office.
Clinton looked poised to lose to a man whom most of her supporters here tonight said they feared. They despaired for the country.