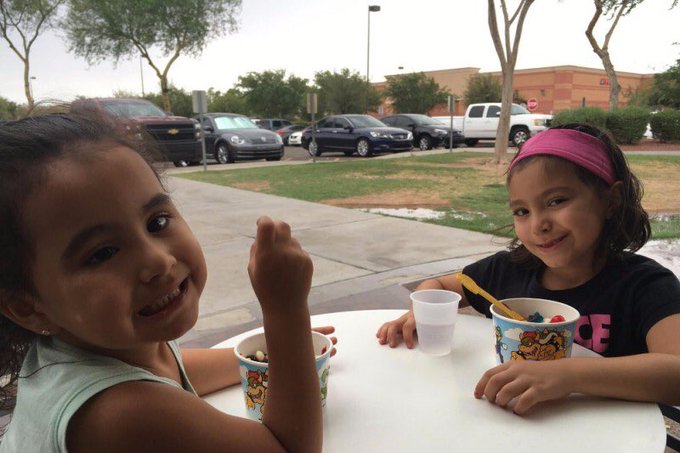 Police: Father, 2 daughters dead in murder-suicide
Police say a father shot and killed his two young daughters before turning the gun on himself inside a Tolleson home late Sunday night.
The Phoenix Police Department says officers responded to the home near 91st Avenue and Broadway Road just before 10 p.m. on Sunday after receiving reports of gunshots fired in the area.
Upon responding to the area, police received a second report of a welfare check at the home after a caller informed police she was concerned about her ex-husband and their two daughters.
When officers entered the home, they found a 36-year-old man and his 5-year-old daughter dead. A 4-year-old girl was transported to a nearby hospital where she later died.
VIDEO:
Investigators believe the father shot his two daughters before taking his own life inside the home.
"I wasn't even inside the home and I can't even imagine how the officers are feeling now," Sgt. Mercedes Fortune said. "Obviously, we're taking care of them and making sure they're doing well. Just a tragedy alone for the family and for the community."
— Nicole Garcia Fox10 (@Fox10_NicoleG) October 17, 2016
— Liz Kotalik FOX 10 (@LizKotalikFOX10) October 17, 2016
— Liz Kotalik FOX 10 (@LizKotalikFOX10) October 17, 2016
Neighbors say the parents had recently split up about five months ago and the girls' mother moved out of the house.
Family members say the older sister had just started kindergarten and the younger was looking forward to going to school.
Police have not released the name of the father, but say they have been called to the house several times in the past for servicing of papers, loud part complaints and check welfare calls. Police have also not said why the father shot his two girls before killing himself, but the investigation is ongoing.
Family members have set up a fundraising page to raise money for the girls' funeral expenses here.