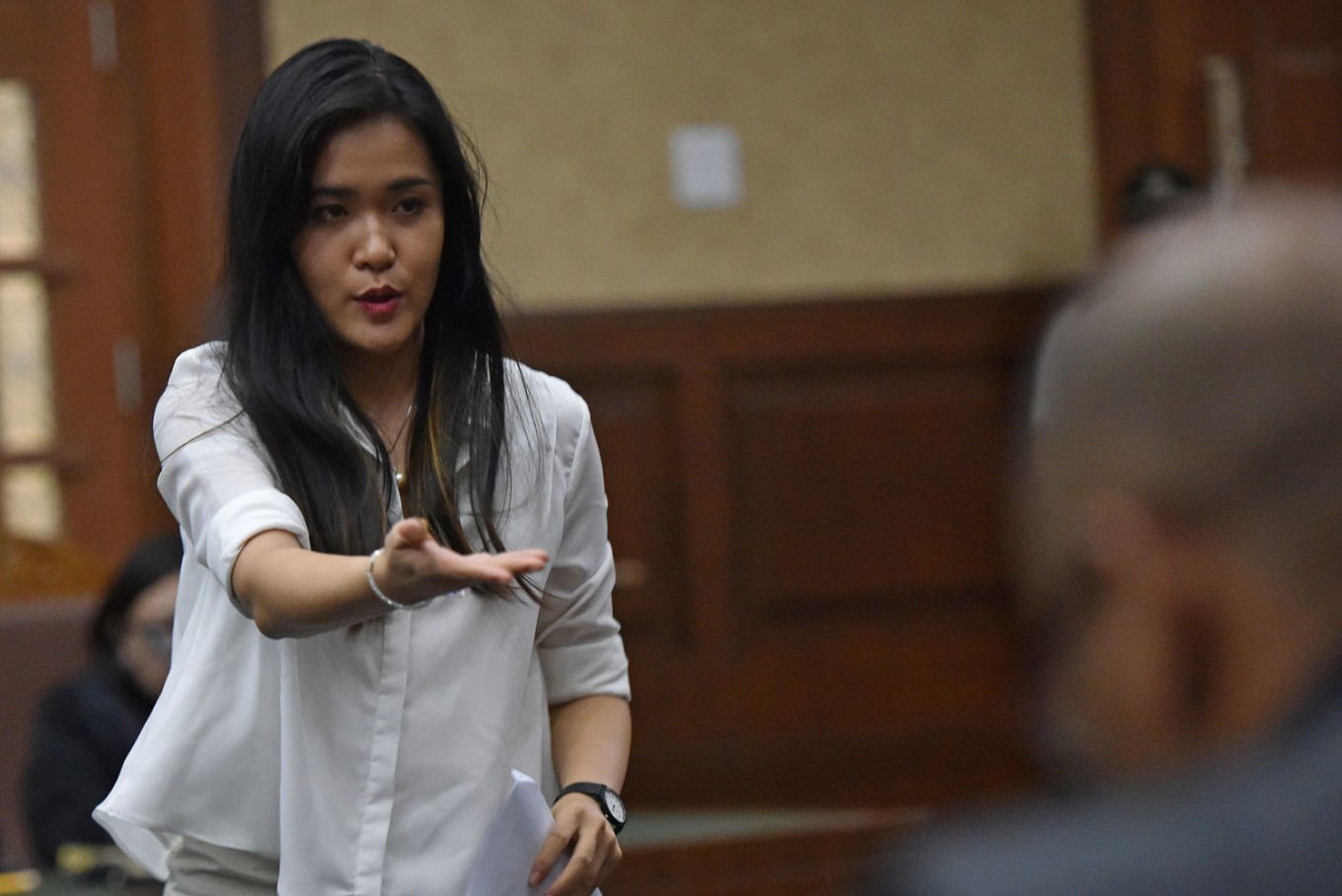 Murder convict Jessica Kumala Wongso gestures during her trial at the Central Jakarta District Court on Oct. 20. (Antara Photo/Wahyu Putro A)
28-year-old Indonesian woman,
Jessica Kumala Wongso,
was today [Oct. 27] jailed for 20 years for murdering a friend from an Australian college with poisoned coffee in a "sadistic" fashion, capping a sensational trial that has gripped the country.
Jessica, who is also an Australian permanent resident, was found guilty of murdering Wayan Mirna Salihin by slipping cyanide into her drink at an upmarket Jakarta cafe, sparking applause from spectators in the packed courtroom.
The soap opera-style tale of two members of Indonesia's wealthy elite having a dramatic fallout that culminated in murder has captivated the country, with the trial dubbed the "poisoned coffee" case and broadcast live on national TV for months.
The murder, which Wongso carried out in January after becoming angered at 27-year-old Salihin's criticism of her boyfriend, also generated huge interest in Australia, where the women studied together at a Sydney design college.
Indonesian Jessica Kumala Wongso (2L) was found guilty of murdering murdering her college friend with poisoned coffee at an upmarket cafe ©Bay Ismoyo (AFP/File)
After hours reading the verdict in a courtroom overflowing with hundreds of journalists and members of the public, a three-judge panel declared Wongso guilty of premeditated murder and handed down the lengthy jail sentence.
"The defendant's action was deplorable and sadistic because it was committed against her own friend," presiding judge Kisworo, who like many Indonesians goes by one name, told the court.
"The defendant did not regret her action and claimed she did not do it."
Wongso, who denies carrying out the crime, was emotionless as the ruling was handed down, then told the court:
"I don't accept this verdict because this is unfair and one-sided," she said after the verdict was read out.
Jessica's lawyer, Otto Hasibuan, expressed disappointment over the decision of the panel of judges, led by judge Kisworo, to not take into account several pieces of evidence presented during the trial.
"We will file an appeal," Otto said at the court.
Jessica's sentence is the same as demanded by prosecutors.