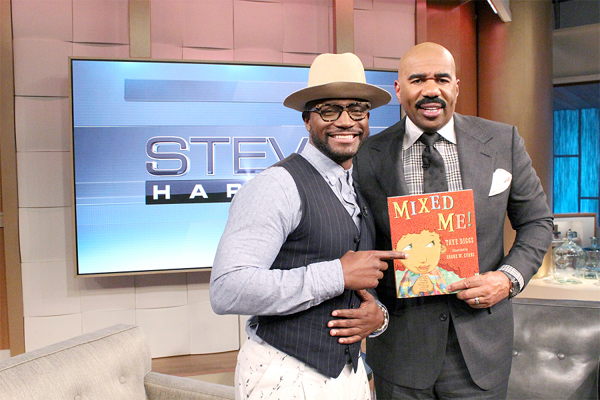 There has been a lot of controversy surrounding actor Taye Diggs' children's book
Mixed Me
.
His 6-year-old biracial son
Walker
, whose mother
Idina Menzel
is white, inspired the book. Folks have been dragging Taye over the book saying the actor doesn't want his son to identify as black or that Taye himself is ashamed of being black. Well, now he's setting the record straight.
Appearing on the "Steve Harvey Show" today, the Broadway star opens up about all of the negative backlash he has received since releasing the book. (FYI—This is the 2nd book in Taye's series of children's book. His first book is titled "Chocolate Me").
Taye revealed he was shocked and taken aback that people would think those things since the book only promotes positive messages.
As they continued the conversation, Steve reads a few mean tweets Taye has received on social media. One person tweeted,
"Taye Diggs has been lost. I thought the black delegation voted him out years ago. If not, I'd like to propose that."
Steve jokes,
"The black delegation? I need to meet them … Who are they?"
Then, Taye responds jokingly, "I would invite you, but they voted me out, so …" Ha!
Like any father, the Hollywood star says when folks talk about his son he wants to "beat someone's a**." He says the folks who are spewing their hate are angry, sad, frustrated people who hide behind a computer.
"They disgust me,"
says Taye.
When asked which race he would rather his son identify with, Taye says he would love for Walker to identify with the black side because that's his pride. He then talks about having to get extra security for him and Idina after they got married because she was receiving death threats over marrying a black man. Sheesh!
Check out the clip below:
Now that Taye has cleared things up, do you have a different opinion about him? Sound off in the comments!
You can catch Taye's episode today on the "Steve Harvey Show." Check your local listings.