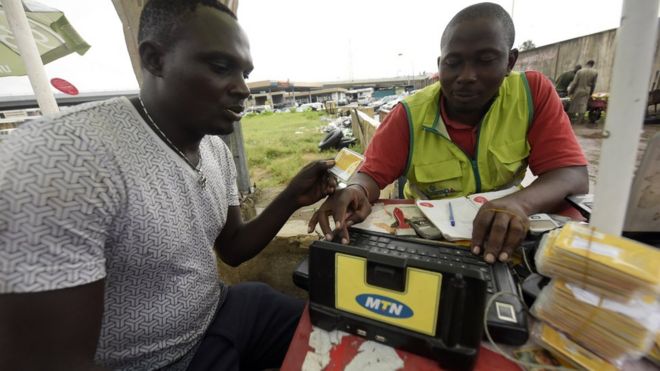 Nigeria is MTN's biggest market
CREDITS: Getty Images
Mobile phone giant MTN fuelled the Islamist-led insurgency in Nigeria by failing to disconnect unregistered sim cards, the Nigerian president has said.
Muhammadu Buhari made the comment during a visit to Nigeria by his South African counterpart Jacob Zuma.
Last year, Nigeria fined the South African-owned firm $3.4bn (£2.7bn) for missing a deadline to disconnect cards.
Nigeria believes Boko Haram militants use unregistered sim cards to co-ordinate attacks.
BBC Nigeria reporter Martin Patience says fine has overshadowed talks in the capital, Abuja, between the leaders of Africa's two largest economies.
"You know how the unregistered [sim cards] are being used by terrorists and between 2009 and today, at least 10,000 Nigerians were killed by Boko Haram," President Buhari said at a joint press conference with Mr Zuma.
Other mobile phone operators complied with a mid-2015 deadline to register all sim cards, but "unfortunately, MTN was very very slow and contributed to the casualties", Mr Buhari added, in his first comments on the issue.
Nigeria initially imposed a $5.2bn fine on MTN in October, but brought it down to $3.4bn.
Mr Buhari said MTN, which was in talks with Nigeria to reduce the fine further, could make gradual payments, Reuters news agency reports.
Last month, MTN said it had dropped court action to challenge the fine, and had paid $250m as part of efforts to reach an "amicable settlement".
MTN has 231 million subscribers in 22 countries across Africa, Asia and the Middle East. However, Nigeria is its biggest market.