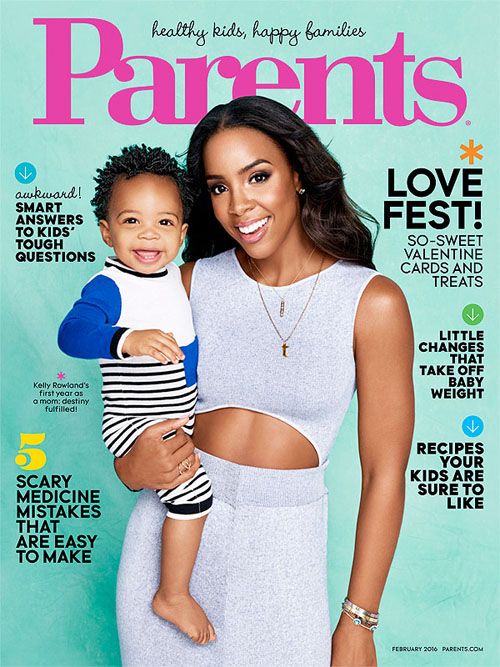 R&B singer Kelly Rowland and her precious baby boy Titan Witherspoon are gracing the cover of
Parents magazine's
February 2016 issue. And the mother-son duo is melting our hearts with their insanely cute cover and spread.
In the cover story, the fab mom talks about juggling her career all while being a hands-on mom to her 14-month old son, whom she shares with husband Tim Witherspoon. She reveals "patience and confidence" are the keys that have helped transition her into motherhood.
But, she wasn't always confident about stepping into motherhood. Like many first-time mothers, she felt super nervous about having enough patience to care for her baby boy.
"I was nervous that I didn't have the patience to be a good mom, because before Titan I had zero. But now I am very patient. The Bible verse 'love is patient' is real! I am much more laid-back now. I don't make the little things into big issues like I once did."
While some new mothers can't afford a trainer, she offers up some great advice to new moms who are working diligently to drop the baby weight. First she advises,
"Write on your mirror in lipstick: 'I had a baby. I'm a superhero.'"
Then, she urges new mothers to not get discouraged when trying to lose weight. She motivates them to stay the course because losing the weight will take time, but you shouldn't beat yourself up over it. She drops some inspirational words saying,
"It takes about a year to get the weight off. Don't beat yourself up if it takes even longer."