The Houston and Brown families attended a wake for

Bobbi Kristina Brown

yesterday [Jul 31] to say goodbye to their loved one. Bobby Brown

was spotted puffy eyed and seemingly grief stricken as he walked outside of the wake for his 22-year-old daughter Bobbi Kristina Brown, whom he shared with the late

Whitney Houston, in Atlanta.
Bobby and a few of his family members were seen leaving Murray Brothers Funeral Home through the back door as they met up with other family members outside of the funeral home after they paid their respects. All of his children were there to say their goodbyes to their sister.
His wife

Alicia Etheredge, who gave birth to their

daughter last month, was right by his side to lend her support during this troubling time.
Bobby's son,

Bobby Brown Jr., also came out to say goodbye to his sister.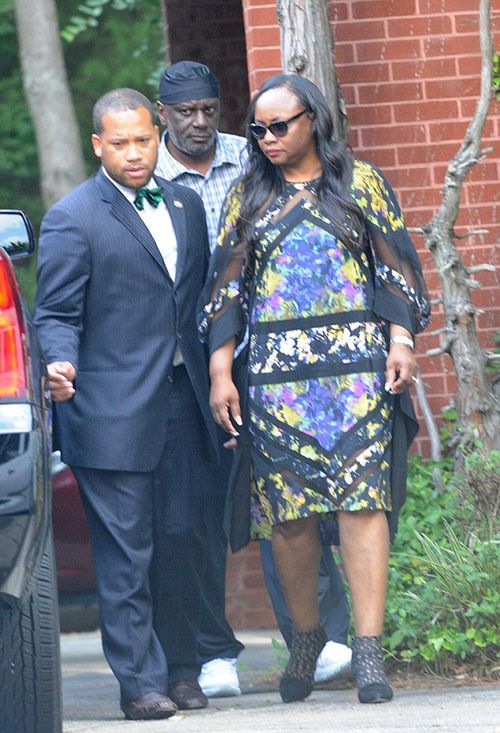 A sorrowful looking

Pat Houston

and her husband/Whitney Houston's brother

Gary Houston

was also seen making their way to a waiting vehicle, surrounded by security, after they visited Bobbi Kristina. Whitney's mother Cissy Houston also stopped by the funeral home to pay her respects.
It's being

reported

the Houstons went in to view her body first, around 6pm, and then the Browns went in to see BK.
Five days after Bobbi Kristina's

passing in hospice care, the families will say their final good-byes today for her invite-only homegoing service at the St James United Methodist Church in Alpharetta. There have been rumors that the funeral will have a "Sweet 16"/prom theme to it since Bobbi K didn't experience either during her short life.
The family has asked instead of sending flowers, to make

donations

to the Marion P Foundation, a charity founded by Pat Houston for troubled teens. Bobbi K's funeral services are scheduled for later today.
Photos: Splash/INF/FameFlynet