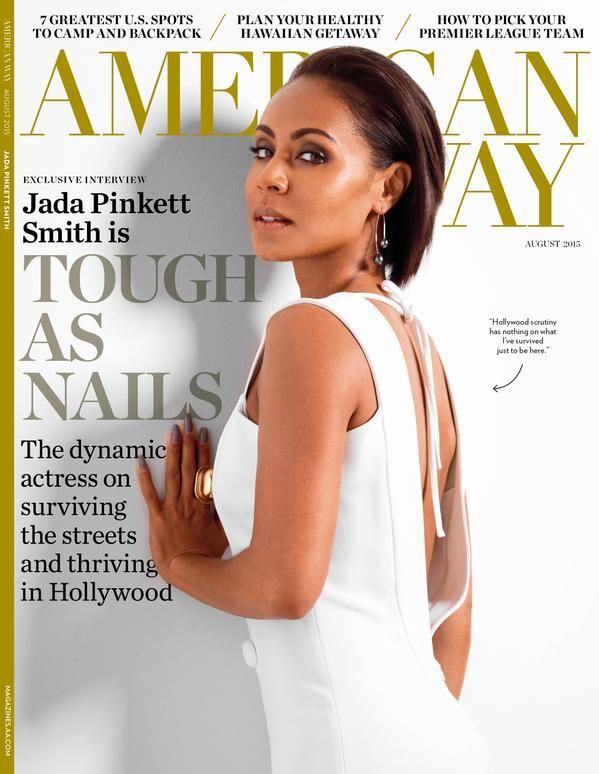 Beloved actress and philanthropist

Jada Pinkett Smith

appears in the latest issue of

American Way Magazine

where she opens up about survival skills, navigating Hollywood and her 18-year marriage to Will Smith.
Jada Pinkett Smith is a survivor. Raised on the tough streets of Baltimore (she was robbed at gunpont while in junior high), she moved to Hollywood at the age of 17 to begin her illustrious carrer. In the latest issue of

American Way,

the magazine for American Airlines, Jada reveals the secrets to her survival and recounts her struggles.
As a woman who is constantly under the microscope for her marriage (new divorce rumors

have surfaced this week),parenting skills,

and political activism, her ability to survive over two decades in Hollywood is a testament to her strength and endurance. Peep the highlights here:
On marriage:

Marriages go through shifts and relationships go through shifts because in life things shift. So people are automatically like, "What's going on? They must be getting a divorce." Well, no.'

On scrutiny:

'If you really want to know, I'm thankful for the Hollywood scrutiny, that that's my problem. There are mothers out there losing their sons, their husbands, their daughters. I'm blessed. 'So scrutinise me. I'll take that any day over what the majority of my people are dealing with on a daily basis. I dare not complain. Hollywood scrutiny has nothing on what I've survived just to be here.'

On picking Hollywood roles:

I have really no interest in roles that keep me in a box. I'm not interested in just playing the pretty girl, or what people depict as being 'tough' or 'street.' I do love playing those gritty characters, as long as I'm given diversified ways to play them. Coming from the streets of Baltimore, I know there's a lot of variation even within that world."

On her upbringing:

"My grandmother made sure I was trained. I had tap dance. I had ballet class. I had to learn French. I had to play the piano. She just wanted me to be the most well-rounded child."

On her grandmother:

"She was an atheist. And she was like, 'If you want to believe in God, you have to pick your own god."

On growing up in Baltimore:

"So many people I lost on the streets," she says, "and even just my own life, when I think back to who I was, living in Baltimore and what my ideas of survival were, and the kind of activities I was involved in at 13 years old. I was going to jail or I was gonna see a grave. Those were my two choices, because you get caught up in a mentality."

On turning down a role on NBC's "Blossom":

"I'm like, 'Oh my God, I'll die in this role,' " she remembers. "Let me tell you," she says. "People in this industry were like, 'Are you frigging kidding? This little nobody is saying no to a hit TV show? How dare she?!' " She was told she'd never get work again, but two weeks later, she did well at an audition for A Different World, the spinoff of The Cosby Show, and became a series regular. "That's when I learned you wait when you feel something's not right for you. You wait to take the shot. It was at a time when young and black was very hot in Hollywood. Doors were opening the way they'd never been open before."

Peep the rest of her fierce spread below:
Photos via American Way