Kerry Washington has landed another magazine cover. And she's serving natural flawlessness for Net-A-Porter's "The Edit". In the cover story, she reveals as she was in the early stages of labor she was busy tweeting away during an episode of "Scandal!"
Shot by photographer Bjorn Iooss, the ABC star was pure perfection in a white Isabel Marant fringed jacket accessorized with earrings by Jennifer Meye. We are so loving the soft, dewy make-up to give off a natural glow.
In the cover story, the "Scandal" fan favorite let us in on a secret we didn't know. Every Thursday, during "Scandal," Kerry live tweets with all of her "gladiators" to discuss what's currently happening on the show. Well, you'll recall, Kerry was pregnant during last season, so to keep her fans from figuring out she could possibly be in the hospital, she live tweeted during the early stages of labor. Ha!
The fab actress also talked about how she prepares to transform into Olivia Pope, the biggest difference between herself and her character, how her husband/former NFLer Nnamdi Asomugha feels about her on-screen love interests and more. Oh…and in case you didn't know this YBF mom does NOT drink alcohol, so all those scenes of her drinking wine...it's actually grape juice!
Below are the highlights:
Now that you have established this huge presence in social media, do you feel like you can't make plans on Thursdays?

KW: Oh yes, I have no social life on a Thursday! Every Thursday within three weeks of my [daughter Isabelle's] due date, I loaded up pre-tweets based on the episodes and what I would want to say.




Did you tweet while you were actually in labor?

I tweeted in the very early stages of my labor. I figured that if I went completely silent on social media, then people would know I was in the hospital!




In the online world, everyone can air their opinions. Do you ever feel people take Scandal too seriously?

[Some people] do get caught up. Bellamy Young [who plays Olivia's nemesis, Mellie Grant] and I are really good friends and sometimes when people see us out together they get very confused. I take it as a compliment.




What do you think of Olivia Pope? Is there anything that you don't like about her?

I love her. To me she's like family, and with family, it doesn't matter if you like them or not, you love them no matter what. I don't always agree with her choices, but I have a lot of compassion for them.




What is the biggest difference between you and Olivia?

I do a lot of therapy! Not to say that I have it all together, but I think I have a little bit more awareness about my behavior patterns and I do the work it takes to get out of them.




Is your husband [former NFL player Nnamdi Asomugha] 'Team Fitz' or does he want Olivia to stand in the sun?

I have never asked my husband that, actually. But I would say that we are all 'Team Shonda'. I really love that in the episode Where The Sun Don't Shine, Olivia said, "I choose me." That is a really powerful message.




How do you get into the 'Olivia Pope' mindset?

The biggest thing for me are the shoes. I'll wear Uggs around set, but I can't rehearse a scene in them because I don't feel like Olivia until I put the shoes on. Shoes define how you walk in the world and how you stand, like: what is your posture in life?




What's your favorite wine?




I know. I drink Welch's organic grape juice on the show.




If you weren't an actress, what would you be doing? Do you think you would be in politics?

I would be involved in politics, but I would probably be teaching. It's what my mother did, so it's in my blood. My mother is so badass. I watched her get her doctorate when I was a little girl: she got that around the same time that I graduated from kindergarten so we both had caps and gowns. I grew up with a belief in the importance of a woman's mind and that has been a real gift for me.




How do you hope Olivia Pope will be remembered?

I hope people remember her as a complicated, fully realized human being; she's not a stereotype and she's not an accessory. I think that it's important for women to know, in film and in TV and in life, that you can be the lead of your own story. I hope she's remembered for that, as somebody who is the driving force of her own life.
Peep her gorgeous black-and-white spread below:
Top & skirt: Stella McCartney; Earrings: Jennifer Meyer; Cuff: Jennifer Fisher; Ring throughout (unless stated) Kerry's own.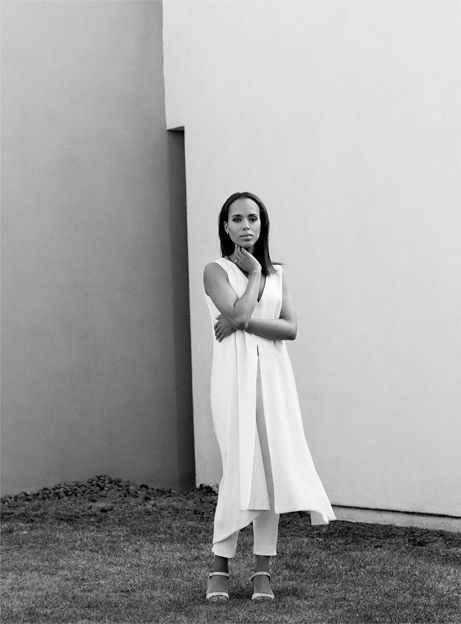 Top: The Row; Pants: Isabel Marant; Sandals: Lanvin; Ring (right hand): Maison Margiela Fine Jewelry; Ring (left hand): Shaun Leane
Dress: Marni; Earrings: Wendy Nichol; Ring: Shaun Leane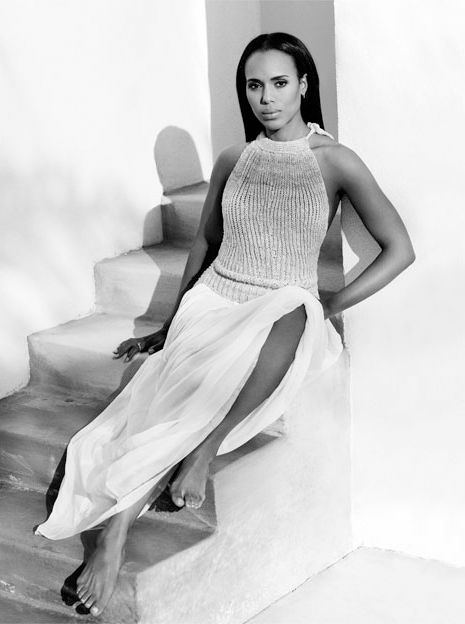 Dress: Loewe; Earrings: Jennifer Meyer; Ring: Shaun Leane